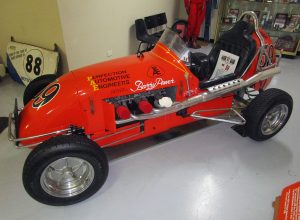 FOR SALE
FOR SALE
Vic 59 – Barry Power Holden
Car was built using a 'Doherty' tube chassis and a former Johnny Stewart McGee fuel injected 'Trackburner' Holden engine and finished in 1968.
Car was raced extensively in Victoria and driven at different times by;
Barry Power
Kevin Gormly (NSW)
Barry Sherburn
Barry Pinchbeck (NSW)
Ray 'Noddy' Bishop
Eric Smith
The car last raced in 1986 under the ownership of Smith.  During its career it held lap records at the Melbourne Speedbowl and the Redline and Avalon Raceways.
The car won the Vintage Speedcar Assn (NSW) 'Restoration of the Year' in 1998.
Engine: Fuel injected grey Holden
Front Suspension: Transverse spring
Rear Suspension: Parallel torsion bars
Diff: Quick-Change
Rear disc brakes
Large display board
Price: $ 35,000
Contact: Barry on 0413 927 764